4cost exhibits at the Dialogue with Military Attachés 2022
On 21 June, the information event "In Dialogue with Military Attachés", which is organised annually by the Deutsche Gesellschaft für Wehtechnik e.V. (DWT), took place for the twelfth time at Schloss Diedersdorf near Berlin. The aim of the event is the exchange of information between defence technology SMEs and German and future German military attachés as well as foreign military attachés accredited in the Federal Republic of Germany.
As a developer and provider of innovative costing solutions, 4cost was an exhibitor at the event to present its comprehensive product portfolio for cost optimisation to the participants. "The issue of costs is directly related to all questions around upgrading, enabling and maintenance," says Arnd Schüller, Head of Sales at 4cost. "For this reason, solutions like ours are needed that quickly provide the necessary cost clarity." With the help of parametric cost estimation, which is used in the costing software 4cost-aces, numerous projects from all branches of the armed forces and military organisational areas have already been cost-technically analysed, evaluated and optimised.
"The broad international line-up of military attachés on site offered us many opportunities to lay the foundations for future dialogues with countries all over Europe and to establish important initial contacts," summarises Joachim Schöffer, Managing Partner of 4cost GmbH, the exchange on site. "The fact that, in addition to our core business as a software developer, we are also a major player in the field of services and consulting was particularly well received."
In addition to the pitches with the military attachés at the 4cost stand, it was also an opportunity for the exhibitors to enter into dialogue with each other. Existing contacts could be deepened and new ones established.
We would like to thank all participants, exhibitors as well as the organiser and look forward to entering into dialogue with military attachés again next year.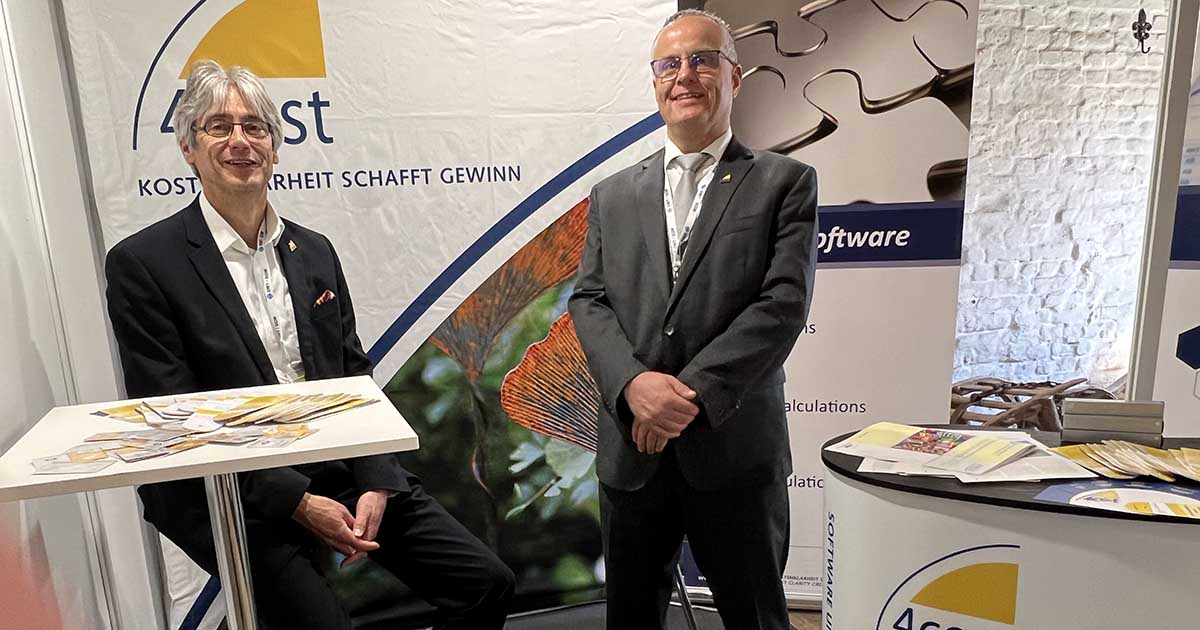 From left to right: Joachim Schöffer, Managing Partner; Arnd Schüller, Head of Sales